Ada begitu banyak cara yang ditempuh oleh publisher dan developer video game saat ini untuk membantu meringankan beban hidup banyak orang, terutama yang lahir sebagai konsekuensi COVID-19. Perusahaan seperti Sony misalnya, menyediakan dana khusus untuk membantu para developer indie partner melewati situasi sulit ini. Sementara bagi Square Enix, usaha tersebut disampaikan lewat distribusi game gratis untuk menemani aksi karantina beberapa waktu yang lalu. Kini, menawarkan library game mereka yang lahir dari tangan dingin Eidos, Square Enix datang dengan promo super menggoda!
Square Enix baru saja meluncurkan bundle "Square Enix Eidos Anthology" via Steam sebagai bagian dari program StayHomeAndPlay mereka. Bundle ini berisikan 54 buah game, baru ataupun tua, yang seperti bisa diprediksi, lahir dari campur tangan dingin Eidos di dalamnya. Bundle ini mendapatkan diskon 95% dan ditawarkan di harga yang super menggoda, dengan 100% penjualannya akan diarahkan untuk badan amal di region Amerika Serikat dan Eropa. Ke-54 game tersebut adalah:Square Enix✔@SquareEnix
Go big or go #StayHomeAndPlay with our latest @EidosMontreal Anthology @Steam bundle. Until May 11th, 100% of Square Enix revenue will support some incredible causes so now is a great time to check out this colossal collection of games. https://sqex.link/EidosAnthology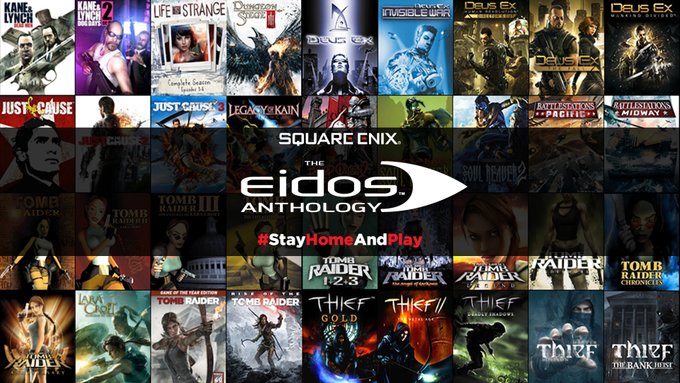 1.Rise of the Tomb Raider
2. Just Cause 3
3. Deus Ex: Mankind Divided
4. Life is Strange: Complete Season
5. Sleeping Dogs: Definitive Edition
6. Tomb Raider (2013)
7. Tomb Raider I
8. Tomb Raider II
9. Tomb Raider III
10. Tomb Raider IV: The Last Revelation
11. Tomb Raider V Chronicles
12. Tomb Raider VI: The Angel of Darkness
13. Tomb Raider Legend
14. Tomb Raider Anniversary
15. Tomb Raider Underworld
16. Lara Croft and the Guardian of Light
17. Lara Croft and the Temple of Osiris
18. Just Cause
19. Just Cause 2
20. Kane and Lynch: Dead Men
21. Kane and Lynch 2: Dog Days
22. Deus Ex: Human Revolution – Director's Cut
23. Deus Ex: Game of the Year Edition
24. Deus Ex: Invisible War
25. Deus Ex: The Fall
26. Thief
27. Thief: Deadly Shadows
28. Thief II: The Metal Age
29. Thief Gold
30. Battlestations: Pacific
31. Battlestations: Midway
32. Project Snowblind
33. Mini Ninjas
34. Order of War
35. Flora's Fruit Farm
36. Supreme Commander 2
37. Conflict: Desert Storm
38. Conflict: Denied Ops
39. Legacy of Kain: Soul Reaver
40. Legacy of Kain: Soul Reaver 2
41. Legacy of Kain: Defiance
42. Blood Omen 2: Legacy of Kain
43. Dungeon Siege
44. Dungeon Siege II
45. Dungeon Siege III
46. Anachronox
47. Pandemonium
48. Deathtrap Dungeon
49. Daikatana
50. Omikron: The Nomad Soul
51. Goetia
52. Hitman GO: Definitive Edition
53. Lara Croft GO
54. The Turing Test
Anda bisa mendapatkan ke-54 buah game ini via Steam dengan harga hanya 370 ribu Rupiah saja! Promo ini hanya berlaku hingga tanggal 11 Mei 2020 mendatang. Anda yang tertarik bisa langsung menuju ke tautan berikut ini. Bagaimana? Tergoda?
sumber: jagatreview.com